Butter beans in smoked cascabel oil- Yotam Ottolenghi
Full credit to Yotam Ottolenghi for creating this delicious dish and the Guardian news paper for posting it!

absolutely delicious and is definitely in my regular rotations
Sweet, nutty and smoky, cascabel chillies make these beans very special. Serve them as an antipasto, alongside good olives and plenty of crusty bread to mop up the delicious oil. If you can't get hold of cascabel chillies, dried ancho chilli would also work. Once cooked, the beans will keep in a sealed container in the fridge for up to a week, and their flavour will only improve.
Prep 10 min
Cook 30 min
Infuse 2 hr-plus
Serves 6
4 dried cascabel chillies, roughly broken in half
5 garlic cloves, bashed with the flat of a knife
2 jalapeños, sliced lengthways seeds and all (or use just one, or even none, if you prefer)
1 lime – skin finely shaved, to get 5 strips, and juiced, to get 1 tbsp
1 lemon – skin finely shaved, to get 5 strips, and juiced, to get 1 tbsp
1½ tsp coriander seeds, toasted
1 tsp cumin seeds, toasted
400ml olive oil
Flaked sea salt
1 x 660g jar good-quality butter beans (I like Brindisa's), drained
Put a large, nonstick frying pan on a high heat and ventilate the kitchen. Once the pan is smoking hot, turn the heat down to medium-high, add the cascabels, garlic, jalapeños and the strips of lime and lemon peel, and dry-fry until well blackened in places and very fragrant – about three minutes for the citrus skins, four for the garlic and cascabel chillies, and nine for the jalapeños. Remove them one by one as they're ready and transfer to a saucepan. Once they're all in the pan, add the toasted seeds, lime and lemon juice, oil and two teaspoons of flaked salt. Put on a medium heat and cook gently for four minutes, or until the oil begins to bubble a little, then turn off the heat. Use a pair of tongs or a potato masher to squeeze and crush the charred ingredients into the oil to release their flavour, then stir in the drained butter beans and leave to cool.
Once cool, tip into a bowl and leave to infuse for at least two hours, and ideally longer, if you're planning to eat the beans that same day (if you're making them ahead, decant into a suitable container, seal and put in the fridge). Serve at room temperature.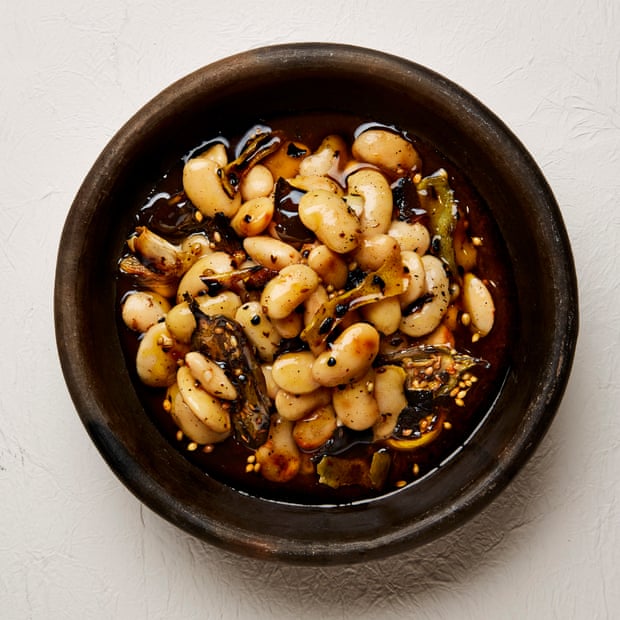 Yotam Ottolenghi's recipe can be found on the Guardians website here!

No comments
Leave a reply